24/7/365 Support
Our support team is available 24 hours a day, 7 days a week, to assist with any and all issues you may have. In fact, we strive to answer all support tickets within 5 minutes - even on weekends and holidays.

Safe, Secure, Trusted
Downtime can cause customers to lose faith in your business, and cost you money. CanSpace has been trusted for years by Canada's largest corporations and government entities for offering premium, reliable web hosting.

30 Day Guarantee
We're so confident that you'll be satisfied with our service that we will refund your money if you aren't! All our standard packages are covered by our 30-day, no risk, money back guarantee.

cPanel & WHM
Take control over your reseller account via the award-winning WHM control panel and give your clients their own individual cPanel accounts. Create your own customized plans to give to your clients and change them on the fly at any time.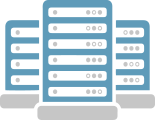 Fully White Label
You can brand your control panel with your logo, and use your own private nameservers - our company name will never be mentioned. You can offer your clients our industry-leading web hosting services, including our site builder and script installer, all under your own name.

Daily Backups
We take care of all server-related issues including backups. All your accounts are backed up daily, so you can be assured that in case of disaster there is always a method of recovery. This includes the accounts of your own clients!