24/7/365 Support
Our support team is available 24 hours a day, 7 days a week, to assist with any and all issues you may have. In fact, we strive to answer all support tickets within 10 minutes - even on weekends and holidays. When choosing CanSpace as a web hosting provider, you're choosing high-end web hosting as well as peace of mind.

Safe, Secure, Trusted
Web hosting downtime can cause customers to lose faith in your business, and cost you money. Choosing a provider simply based on cost can be an absolute nightmare - lost data, sites down for days at a time, and non-existent support. CanSpace has been trusted for years by Canada's largest corporations for offering premium, reliable web hosting.

30 Day Guarantee
When you choose CanSpace for your company's web hosting needs, you choose security, professionalism and peace of mind. We're so confident that you'll be satisfied with our web hosting services that we will refund your money if you aren't! All our standard web hosting packages are covered by our 30-day, no risk, money back guarantee.

No Overselling
Unlike our competitors, we don't offer unrealistic web hosting plans with "unlimited disk space and bandwidth for $1 a month" - leading to slow loading and often inaccessible websites. You will always receive the level of web hosting service and reliability that Canadians have come to expect from CanSpace.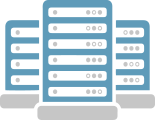 We Value your Business
We realize your website is the key to your business, and we strive to keep your website running smoothly, quickly, and reliably. Our datacentres are staffed 24/7, and our support staff is available around the clock to deal with any concerns or issues you may have.

Daily Backups
All web hosting accounts are backed up daily, so in an emergency there is always a method of recovery. Unlike other providers, we allow our clients full access to their backups, so even in the case of simple human error, old data can be restored with just a few clicks!